History's Headlines: The bridge of dreams | History's Headlines
Recently the Tilghman Street Bridge had a second party for itself. Delayed by COVID and the supply chain problems that followed it, officials and the public breathed a collective sigh of relief that after a long wait this important artery of traffic was restored.
But there was a time when the Tilghman Street Bridge was new. Back in the 1920s they had a word for publicity hype, they called it "ballyhoo." Sometimes it was over something frivolous like a new leggy chorus girl making a sensation at the Ziegfeld Follies or flagpole sitter Shipwreck Kelly's latest stunt. But other times it was built around something solid like Lindbergh's solo transatlantic flight from New York to Paris or Gertrude Ederle's English Channel swim. But for Allentown the solid ballyhoo came out in full force on September 14, 1929, with the opening of the Tilghman Street Bridge.
Draped in bunting generously supplied by Zollinger's department store, the "Million Doller Bridge" as the newspaper's headline writers never tired of calling it, with its spectacular arches and Art Deco light fixtures, was a sensation. As Allentown's first bridge devoted exclusively to automobile traffic it spoke to the arrival of the automobile age. Local aviator Captain Sidney Riley of the newly formed Allentown Aviation Corporation, just returned from a gallant second place showing in the New York to Cleveland air race, flew his biplane over the crowd with several daring loops. His aerial photographs of the bridge dominated the front page of local newspapers. Allentown and Lehigh County officials vied for the microphone on that day.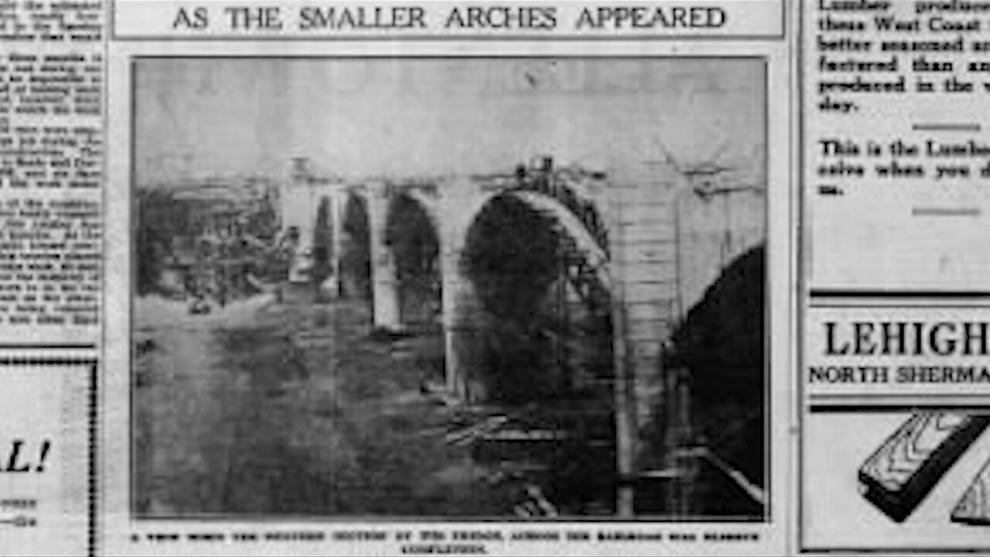 Particularly proud of "their" bridge were the residents of the city's multi-ethnic Sixth Ward. A Morning Call photographer turned his camera on the crowd and took a picture of a multitude of faces that reflected that diversity underneath straw-hatted men and cloche-wearing women.
The speakers that day, from Allentown Mayor Malcolm W. Gross to Lehigh County judges, hailed it as the birth of a new city, a regional community of metropolitan areas which made Allentown an important link on a direct automobile route between New York and Harrisburg. One speaker even suggested that Allentown annex Bethlehem for a greater city of AlBeth. The silence from Bethlehem officialdom at this proposal was deafening. But Allentown officials were not put off by it. So far that month on September 3rd the Dow Jones Industrial Average peaked at 381.17, the highest ever. Hadn't Yale Professor Irving Fisher said the stock market had reached a permanently high plateau? Business prosperity was evident locally with the new PP& L building and the new airport that was forming, and the sales were through the roof for washing machines and radios. Yes, a lot of it was based on installment buying but if you weren't bullish on America, you were missing out.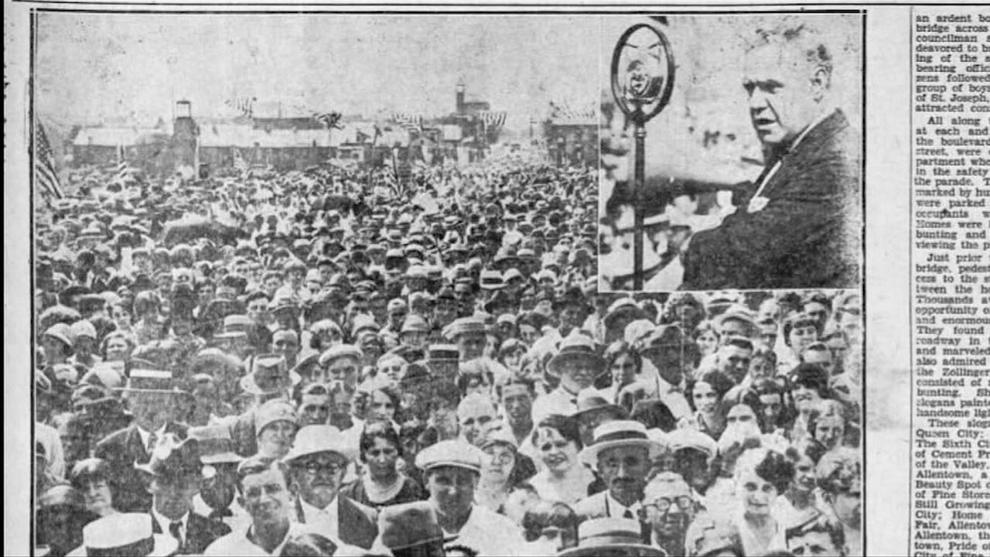 At exactly 2 p.m. a cavalcade of cars led by the American Legion Band crossed the bridge and headed to Bethlehem and finally after a trip around the city closed the day with a huge clam bake at the new Allentown Airport, courtesy of Captain Sidney Riley.
Before 1862 there was a small covered bridge on the north of the Lehigh River that went out to Kimmet's Lock of the Lehigh Canal, which was used mostly by workers at the Lewis family's iron furnace. In 1929 John Allen, a long-time resident from the Sixth Ward, told the Morning Call about it and his boyhood adventures on it that sounds like something out of Mark Twain:
"It cost a penny to pay it (the toll) but we did not have the money to pay it or if we did, we could think of something better to spend it on. When we wanted to cross, we'd wait until a baker's wagon or a farmer's cart was on the bridge and stopped to give the collector the toll. Along the opposite side of the collector, we would hustle and scamper across. Of course, the collector would shout or take a few steps after us, but I guess now he got as much fun out of it as we did but we would run for dear life and take a great delight in our feat."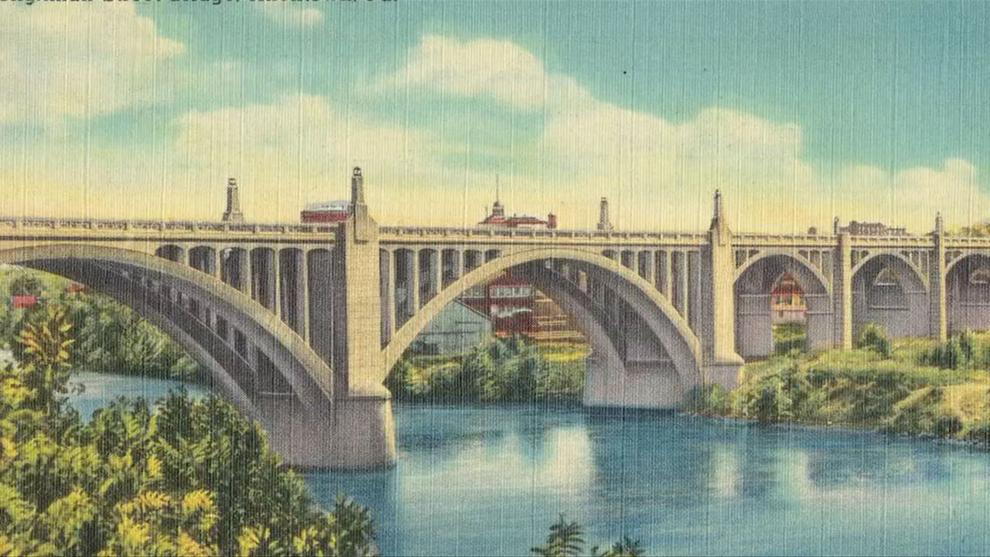 That bridge was washed out of existence in the great flood of 1862 that devastated the Lehigh Valley and never replaced. It was 1872 when Dr. Orlando Fegley, a physician of the day, grocer Peter Schwentser and James A. Gallagher came forward with plans for a bridge, but Judge Longnecker, a Lehigh County jurist, blocked it as too expensive. Another proposal to build a crossing from Allen Street had its proponents but was finally rejected as the bluffs on the other side were too steep.
As usual money seems to have been the essential problem. When Lehigh County would agree Allentown said no, they would not pay for it. When Allentown agreed to go half-way with the county the county said they would not go along with it. Allen recalled many times when it looked like the bridge project would not happen. "I ran for council four times on the issue of building a bridge and it was defeated four times," he said, "It was very discouraging."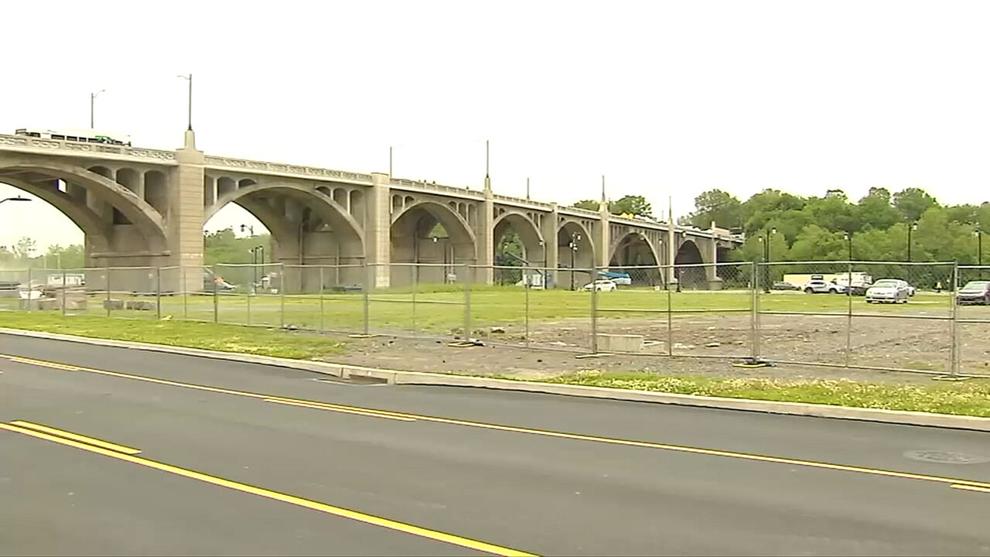 It was in 1909 that things began to really move but not without mishaps. When the land on the east side of the Lehigh as the 14th and 15th wards was annexed to the city, development there, both industrial and residential, was creating a base of support. They wanted to take advantage of being part of a growing city. The pathway to the bridge still faced obstacles. But on November 2, 1926, by a popular vote a bond issue of $3,850,000 to build a bridge at Tilghman Street and the rest for utility projects like sewers and drainage was passed.
In 1927 James B. Long of State College and Norristown was named as the architect. He had designed many railroad bridges around Philadelphia, particularly at Manayunk.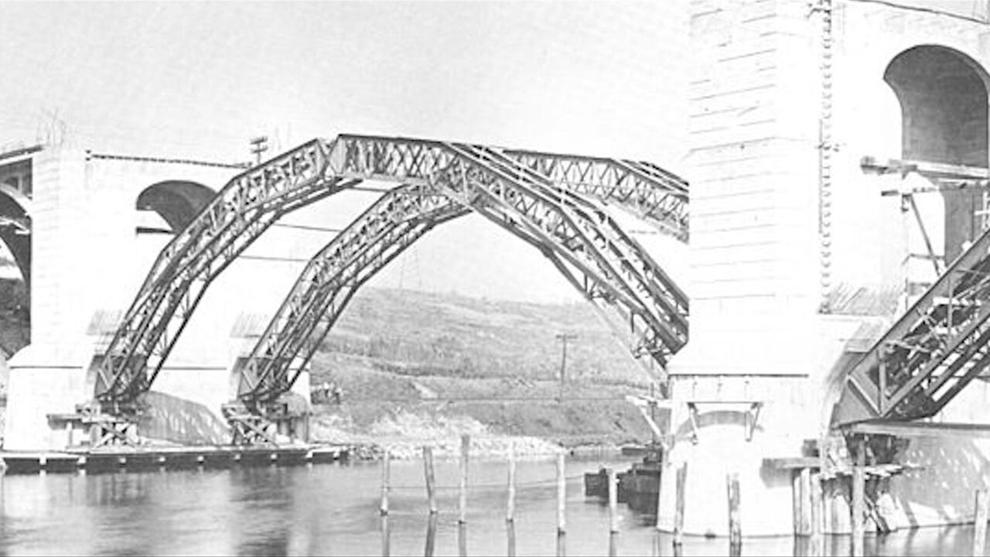 In April of 1928 the contracts were let to Durham and Seeds of Philadelphia, who had constructed bridges across the states. Enos L. Seeds was born in Pennsylvania but in the 1870s moved to Texas and became a successful cattle rancher and cotton farmer. He returned to Pennsylvania in 1909 and formed a construction company with James Durham of Philadelphia. Both men were on hand for the opening and were pictured in the next day's newspapers.
Construction on the bridge started on April 16, 1928. The project employed 140 men a day. The Morning Call reported that it took 50,000 barrels of cement (Lehigh Portland of course), 25,500 tons of sand, and 34,500 tons of stone. There were 850 tons of reinforcing steel in the bridge and 750 tons of structural steel. 200,000 bricks were required to lay the paving stone. Six big scows were built to support two large derricks and to carry building materials. One had a 60 foot boom, the other had a 90-foot boom.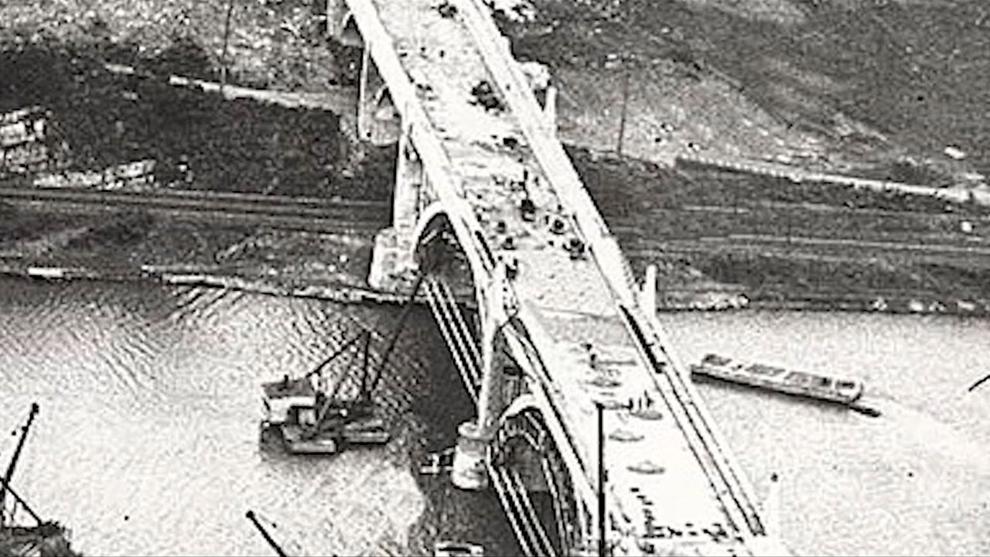 The contracts signed by Durham and Seeds stipulated that they had to complete the project by November of 1929 or pay a fine. That the project was completed 2 months ahead of schedule was due, the newspapers stated, to an excellent run of fair weather and the lack of accidents.
When it was finished newspaper readers got the full statistics. They noted that the bridge was 2,250 feet long in all and 65 feet high. The length of highway was 52 feet: 36 feet for the roadway and sixteen feet for the pedestrians. There were eight spans of 90 feet over the land and two spans of 185 feet each over the Lehigh River.
Despite many of the clever hopes imagined that day in 1929, two months later the economy soon fell into the Great Depression. But for over 90 years the Tilghman Street has served the Lehigh Valley well. Hopefully after its recent "face-lift" it has another 90 in her.